Musculoskeletal Disorders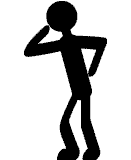 Musculoskeletal disorders (MSDs) are injuries to muscles, tendons and joints. These injuries can occur suddenly from an incident like a fall or over time from repetitive motions such as jumping from the cab.
Some examples of MSDs include rotator cuff injuries, carpal tunnel syndrome, back strain and tendonitis.
Using proper techniques to complete work can reduce the risk of developing these injuries.
Below are safety materials that you can use in your trainings to address these issues.
Work Safe, Home Safe
Save your back for the good things in life - poster (454 KB) Can be printed on 8.5x11 or 11x14 paper
Would your son mind if you couldn't shoot a few hoops? - poster (125 KB) Can be printed on 8.5x11 or 11x14 paper
En Español
Protect your ability to work
Your back bone's connected to your shoulder bone... - poster (237 KB) Can be printed on 8.5x11 or 11x14 paper
Prevent back/shoulder sprain - poster (377 KB)
Recurring pain can lead to disabling injuries - tip sheet (160 KB)
What a trucker needs to know about CTS - dollars & sense (153 KB)
Load securement
Lever vs. Ratchet - tip sheet (154 KB)
Lifting
Guess my weight? - Poster (502 KB) Can be printed on 8.5x11 or 11x14 paper
Take one for the team? - true story (255 KB)
Get help with heavy or awkward loads - tip sheet (154 KB)
Line truck driver hurts shoulder lifting converter gear - true story (96 KB)
If you have to move it manually - organize and store heavy objects at a comfortable height - tip sheet (122 KB)
80-pound box leads to 8 days off work - true story (189 KB)
Cab/trailer entry/exit
Consider the length of your career...(cab) (530 KB)
Consider the length of your career...(flatbed) (510 KB)
Consider the length of your career...(trailer) (384 KB)
Want to be a pro? Trailer exit strategies (159 KB)
TRUE STORY
The right equipment could have kept this driver out of a tight spot
A 40-year-old less-than-truckload driver was delivering a 450 lb. cooler. When he arrived at the customer site, he realized that the truck did not have the lift-gate necessary for delivery. Additionally, the cooler was sitting on a damaged crate.
The customer had paid for a truck with a lift-gate and wanted the cooler delivered as promised. The driver called his manager and was told to "get it done," so he tried to unload the cooler by himself. When he manually lifted the cooler off the truck, the damaged crate caused it to fall forward. The cooler landed on his shoulder, pinning him to the ground in the squat position. He managed to gently slide the cooler off of himself so that it wasn't damaged, but his back was hurt.
The driver continued to work for 5 days after the injury until the pain in his back was so intense that he could not move. When he finally went to the doctor, he was diagnosed with 2 ruptured discs and 1 that was torn. He's been off of work for 6 months and his workers' comp claim has cost more than $20,000. Good planning and the right equipment could have saved him and his company a lot of pain and expense.
How-to-guide
Preventing injuries to muscles, tendons and joints
Low-cost and simple solutions do exist that can help reduce the number of strain and sprain injuries in your company. Hundreds of companies have shown that investments in injury reduction are paid back in less than a year. Here are several steps that can be followed to tackle these injuries:

Step 1: Evaluate the Problem

Look at past injuries and determine where the most common and most serious strain and sprain injuries are occurring. Compare the types of injuries — are more of the injuries in the back, shoulder or hands/wrists?

Evaluate jobs to identify the most demanding tasks. Highlight the tasks requiring the most frequent and extreme amount of demand, and those in jobs where injuries have been occuring.
Talk with workers and supervisors about the parts of jobs they feel are the most physically demanding and most likely to cause a strain or sprain.

Step 2: Prioritize the Risks

Rank the identified tasks based on the following:

History of injuries
Amount of physical effort

Number of workers

Identification by workers and supervisors

Step 3: Develop Solutions
Brainstorm ideas to reduce the stress in tasks in order of priority. Involve workers and supervisors in brainstorming and initially don't rule out any option. All ideas can lead to solutions.
Develop solutions for the top tasks, focusing first on those that can be done quickly and at low cost. Use the creativity of people in your company — many things can be made in-house, whether it is fabricated or made of foam and duct tape.
Investigate longer-term, more expensive solutions that need an investment of capital. These ideas can often produce large gains in both productivity as well as reduction in injuries. Again focus on the ideas that have the largest potential to reduce the most injuries and improve the work process.

Step 4: Implement Solutions
Quickly implement the easiest and lowest-cost ideas— it is important to show that some action is being taken.
Work with the people affected to implement changes; sometimes it takes a couple of trials to get it right. Involving the people who do the work will make it more likely they will adopt the changes.
Ask vendors to let you test equipment or products on a trial basis. Evaluate with the workers whether the equipment or products improve or reduce productivity.

Step 5: Evaluate and Improve
Improving your company's safety process is an ongoing activity. Evaluate whether the changes have worked. If so, can they be further improved or expanded to other operations?
Once the biggest problems are addressed, keep working down the list of priorities.
Evaluate the jobs again. Has anything gotten better or worse, are there new operations that need improvement? Document and quantify the changes in terms of dollars and reduction in risk to demonstrate effectiveness to management.

These are the basic steps to address strain and sprain injuries in your company. The strategies can vary and should be tailored to what works best for you. The TIRES Project staff in the SHARP Program are available to help you work on these issues. Additionally, your industry association or third-party administrator may be able to provide resources and ideas.