Courier and Messenger Delivery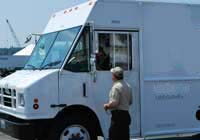 This industry group provides intercity and or local delivery of parcels.
Couriers
Local Messengers
Local Delivery
These three industries combine for approximately 580 accounts reporting hours in Washington State.  Of these 580 accounts 26% had a compensable claim and 37% had an accepted workers' compensation claim in a nine year study period.
Featured publications
The rush to "get it done" ended up costing him (142 KB)
Terminal, yard, and customer site slip, trip and fall injuries to drivers (77 KB)
Load Smart - your driver will thank you (180 KB)
Run-over
Setting the parking brake would have saved him - true story (395 KB)
Entering/exiting cab or trailer
What tool do you use for climbing? (372 KB) - poster Can be printed on 8.5x11 or 11x14 paper
Don't fall for it - use 3-points of contact (608 KB)
Severe weather
Tips for successful chaining (262 KB)
Want to be a pro? Wear the footwear of the pros! (197 KB)
Don't let your footwear get you down (180 KB)