General Freight Truck Transportation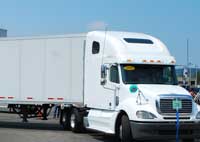 This industry group provides general freight trucking inclucding truckload (TL) and less-than-truckload (LTL), to local and long-distance customers.
General Local Freight
Long Distance Freight TL
General Long Distance Freight LTL
These three industries combine for approximately 2800 accounts reporting hours in Washington State.  Of these 2800 accounts 37% have a compensable claim and 43% have an accepted workers' compensation claim in a nine year study period 1997- 2005.
Featured publications
Run-over
Setting the parking brake would have saved him - true story (395 KB)
Cab or trailer entry/exit
Consider the length of your career...(cab) (530 KB)
Consider the length of your career...(flatbed) (510 KB)
Consider the length of your career...(trailer) (384 KB)
Landing Gear
Tips for making a safe landing (172 KB)
Severe weather
Tips for successful chaining (262 KB)
Want to be a pro? Wear the footwear of the pros! (197 KB)
Don't let your footwear get you down (180 KB)
Be a pro
Hook and unhook trailer (709 KB)
Trailer exiting strategy (159 KB)
Load securement
Is your load secure? (367 KB) Poster can be printed on 11x17 paper
Prevent falls
Use 3-points of contact (435 KB)

Don't fall for it - use 3-points of contact (608 KB)
en Español
Don't fall for it - loading/unloading (409 KB)
Terminal, yard and customer site slip, trip and fall injuries to drivers (77 KB)
en Español
Prevent lifting injuries
Line truck driver hurts shoulder lifting converter gear (96 KB)
80-pound box leads to 8 days off work (189 KB)
Why invest in powered dock levelers? (173 KB)
Work safe, home safe
Save your back for the good things in life (454 KB)
Would your son mind if you couldn't shoot a few hoops? (125 KB)
Stay safe. Stay working. (377 KB)
Visibility
Beware of blind spots! (611 KB)
This is what motorists see (402 KB)